Date at Midnight on This Man Of Steel (Type O Negative) Darkitalia Tribute Compilation | FREE DOWNLOAD
Apr. 14th, 2010 - Apr. 14th, 2015: five years without the Green Man.
Starting from today,"This Man of Steel", the Type O Negative Italian tribute compilation released by Darkitalia in loving memory of Peter Steele is available for free download and listening via Bandcamp. Date at Midnight are proud to be part of this initiative with a version of the iconic song "Black No.1".
Included tracks from Spiritual Front, The Stompcrash, Vanity, Vidi Aquam, Ottodix, Lia Fail, Dade City Days (feat. Luca Urbani), Lenz, Dim Arcana, Manguss, Caron Dimonio, TourdeForce, Rita Tekeyan, Furvus




---
Date at Midnight back to Germany!
Sept. 26th 2015
We are proud to announce that we will perform during the fifth edition of Campus Noir Festival www.campus-noir.de in Ilmenau (Thüringen). Our show will take place on Saturday, Sept. 26th. More German dates to be announced soon, stay tuned!


---
Catastrophe Ballet 30th anniversary Tour
Date at Midnight will open Christian Death gig in Rome on may 24th, 2014 - Catastrophe Ballet 30th anniversary Tour.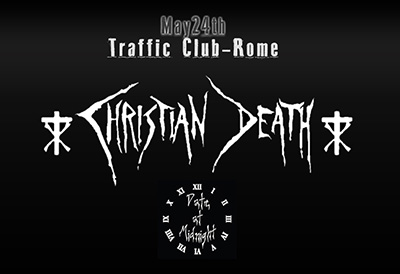 ---
Firenze-Roma OTTANTALLORA 1984-2014(VIDEO)
Superband Date at Midnight+Avantgarde+A silent Noise performing AMSTERDAM with Miro Sassolini (Diaframma 80's singer)

Date at Midnight performing Luna (Litfiba Cover)

---
VICIOUS AND LIAR on WRAPPED BY BATS Vol.1 Compilation
Vicious and Liar is included on Wrrapped by Bats vol.1! More than 20 bands from the goth-post punk world!
Compiled by Gothic World / Partners: Batbeat.com.co - Bat-Cave.pl
OUT on December 2013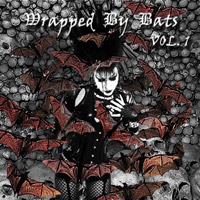 FREE DOWNLOAD

Listen on Spotify

NO LOVE now on iTUNES and Audioglobe!


We Will Not Fall vol.1 - Benefit compilation for Emilia