DISCOGRAPHY
Self – titled EP. 2008, In the Night Time Records
No Love, 2011 Manic depression Records.
COMPILATION APPEARANCES
"Crucifying my Lies" was included in Zoundbies Vol 1. 2009, Zorch Factory Records.
"Spirit dance" was included in We will not fall Vol 1 benefit compilation for Emilia. 2012
"No Love" was included in Bipolar sounds. 2009.
"No Love" was included in Orkus Magazin sample. October 2012 issue.
"Vicious and Liar" was included in Wrapped by bats Vol.1. December 2013, Gothic World.
"Black No.1" was included in This Man of Steel, Free Italian Tribute Compilation April 2015, Darkitalia.

NO LOVE
Manic Depression Records - MD020
Music by Date at Midnight - Lyrics by D. De Angelis and P. Vico.
Recorded, mixed and mastered by Valerio Fisik and Date at Midnight @ HombreLobo Studio, Rome.
Drums recorded by Staniscia @ Wolf Recording Studio (www.wolfrecordingstudio.it);
technical support by G. Bellumori.
DATE AT MIDNIGHT
In The Night Time – NT010
Recorded and Mixed at wolf recording studio between november '09 and january'08 by gianmarco bellumori and date at midnight.
mastered by rino rizzo.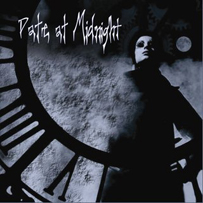 Play all